POD Initiative: Micro-Dwelling & Village-Making with Portland's Houseless Community
Project Origin
In the fall of 2015 the city of Portland declared a state of emergency on housing due to the high number of homeless living on the streets. A point-in-time report earlier that year counted 1,887 unsheltered and 3,801 individuals meeting HUD's definition of homelessness. When including people "doubled up" by necessity in some form of housing, that number reached 16,344. With overburdened shelters and a lack of affordable housing, a range of initiatives have been proposed and/or attempted to address the need for adequate shelter for houseless individuals. These proposals have ranged from building or transforming giant warehouses and partitioning them to shelter hundreds or thousands, to small-scale interventions. The crisis also led to the formation of the Village Coalition, a group made up of advocates, activists, and houseless individuals committed to combatting homelessness from many sides of the issue.
Several CPID Faculty and Student Fellows began working with the Village Coalition in the spring of 2016. It quickly became clear that: a) informal "villages" being established by the houseless themselves were finding incredible success in creating vibrant, safe, supportive, and self-governing communities and could serve as a replicable model. b) Design was an unmet need that had a significant role to play to aid these efforts and those of the Village Coalition. c) Initiatives to change perceptions about homelessness among Portlanders would be essential for the success of any effort that integrated houseless individuals into Portland's central city fabric. Through regular meetings and discussions with other members of the Village Coalition, the CPID joined forces with City Repair, Communitecture, and Open Architecture Collaborative to activate Portland's design community to address homelessness.
Operating under the name Partners On Dwelling (POD), the first step in this initiative has been to ask designers to design and, in some cases, build small, beautiful, and safe dwellings to be collectively displayed in downtown Portland before being occupied in winter. This initiative is not intended to be the solution to homelessness in Portland, but one entry point for designers to become involved and a model for supporting community making and strong social infrastructure among villages.
Project Description
The POD Initiative asks the architecture and design community to apply their skills and experience in shaping the built environment toward housing Portland's most vulnerable population- the homeless. On October 1st, 2016, the CPID and partners hosted an open design charrette attended by nearly 100 designers, social workers, activists, and houseless individuals. Speakers providing context and background included: Mayor Charlie Hales, Vahid Brown (Village Coalition), Todd Ferry (CPID), Mark Lakeman (City Repair + Communitecture), Sergio Palleroni (CPID), and residents of Hazelnut Grove- a village of houseless Portlanders. Following these introductory remarks and group discussions, the designers worked with the diverse group at their tables to come up with preliminary ideas for "pods," categorized as small structures with a footprint of between 6'x8' and 8'x12', and as tall as 10'8". Using Hazelnut Grove as a case study for a potential site (which attendees were invited to visit before the charrette), these pods were designed to be part of a model village in their aggregation. Different groups generated ideas about water collection, adaptability, creative material reuse, modularity, and portability among many other innovations. The inspiring day ended with teams ready to develop their nascent ideas into full designs that can be built.
Teams continued to participate in the initiative and submitted 24"x48" project boards of their designs in mid-November that illustrated the design drivers of their pod proposal and included drawings that could be used to understand how to construct the pod. These boards were displayed at City Hall at a press conference announcing the project, and will continue to be displayed throughout the year at events around Portland for both the design community and the larger public.
Fourteen teams- including three from the CPID (MORE HERE) - manifested their designs into built pods with financial support from the Portland Mayor's Office and The Larson Legacy. Other pods were designed and built by: SERA Architects, Holst Architecture, Mackenzie, SRG Partnership, Scott Edwards Architecture, Communitecture, City Repair, LRS Architects, MoMaMa, Mods PDX + Shelter Wise, and Architects Without Borders-OR. These pods were displayed in downtown Portland at the Pacific Northwest College of Art in the North Park Blocks between December 9th and January 1st.
These 14 pods will be going onto a site in the North Portland neighborhood of Kenton. The village of these 14 pods and shared facilities will consist of a community of all women and be operated through a collaboration between Catholic Charities and the Joint Office of Homeless Services. The City is working with the Village Coalition, The POD Initiative, CPID, and the Kenton Neighborhood Association (among others) to ensure that this pilot project is successful and can serve as a model for future initiatives of this kind throughout Portland.
Location
Portland, Oregon, United States
Partners
Village Coalition City Repair
Communitecture Open Architecture ReBuilding Center Portland Mayor's Office The Larson Legacy
POD Design Teams: SERA Architects, Holst Architecture, Mackenzie, SRG Partnership, William Wilson Architects, Scott Edwards Architecture, Communitecture, LRS Architects, MoMaMa, Mods PDX + Shelter Wise, Architects Without Borders-OR, Neighborhood Works Realty w/ CPID, City Repair, PSU School of Architecture, & CPID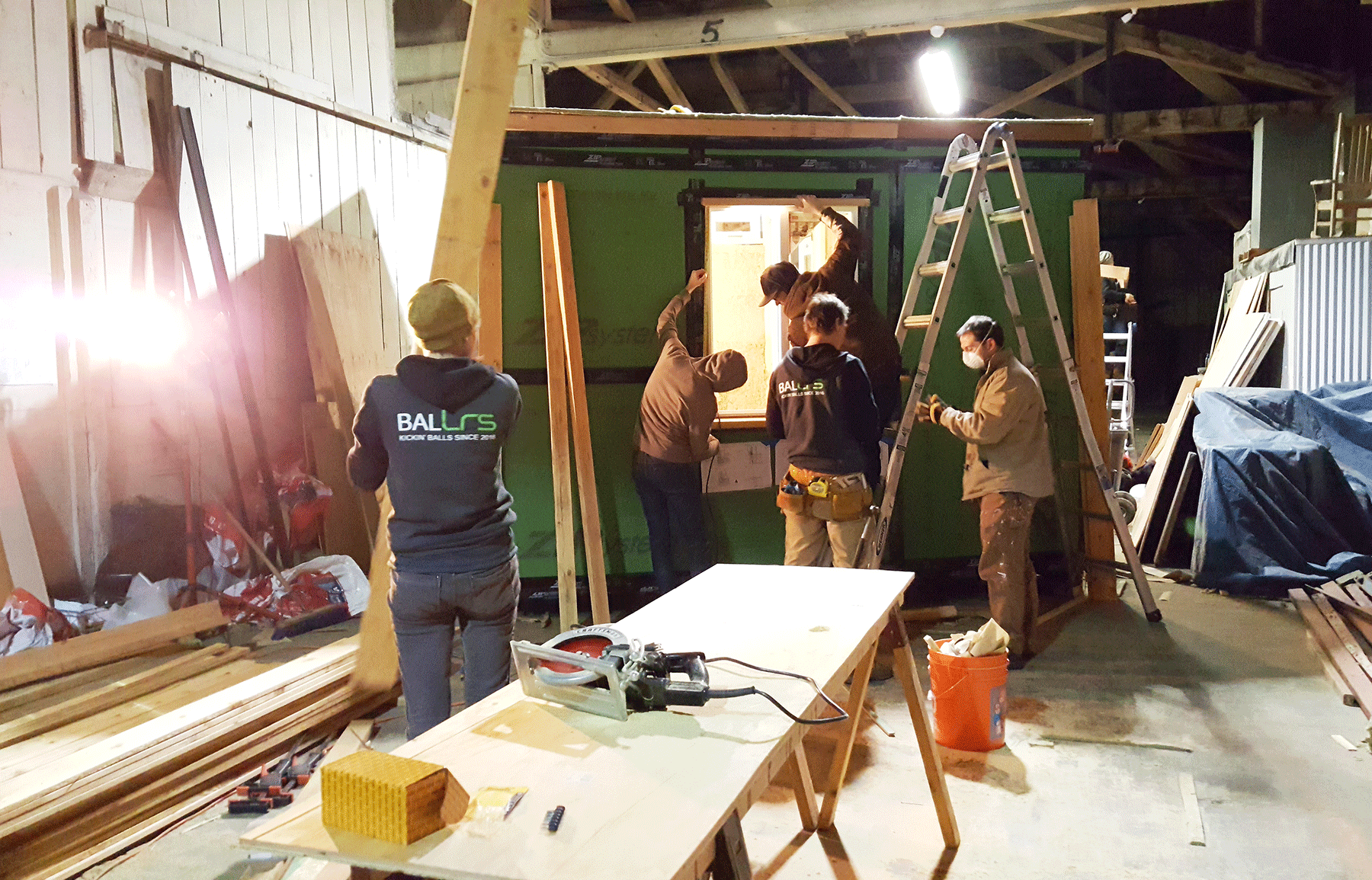 The POD Initiative is just the first step in building a coalition among the design community to continue to address homeless in Portland. This initiative is an entry point for designers to get involved with a clear deliverable, but homelessness is a complex issue that needs to be addressed from many angles. We look forward to working with our collaborators gained on this project to explore how design can best serve the homeless community in the future. This POD Initiative will inform these next steps through tactical action with the community affected.
The CPID recently led the [Plywood] POD Initiative with partners. More on that effort and this next iteration of designs can be found HERE.